Pablo Delgado ist ein mexikanischer Street Art Künstler der zur Zeit in Whitechapel/ London lebt und arbeitet. Er ist vor allem bekannt durch seine Miniaturfiguren die er in East London verklebt.
Dies sind vor allem Menschen, Tiere und andere Objekte die er aus Zeitungen und Magazinen ausschneidet und an die Wände klebt. Zusätzlich malt er den Figuren einen Schatten bei, so dass diese eine 2 Dimensonale Wirkung bekommen. Er kreiert damit kleine Szenerien, die sich zu unseren Füssen abspielen und leicht übersehen werden können.
Er bezieht sich hierbei nicht auf ein und dieselbe Figuren sondern wählt diese wahllos aus, dennoch machen seine Arbeiten auf aktuelle Geschehnisse, sowie die Geschichte East Londons aufmerksam. So hat er beispielsweise Prostituierte am Spitalsfield verklebt, welches einst das älteste Rotlicht Milieu Europas war.
"The prostitutes represent what is happening in East London – with the Olympics everyone is trying to sell themselves and there will be so much money and people coming here. They are not really a comment on prostitution itself, though there is a history of that in this area." (gurdian.co.uk)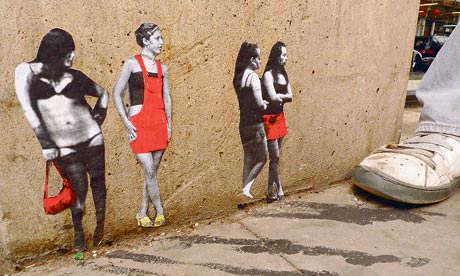 Angefangen hat er mit kleinen Türen die er überall aus Zeitschriften ausschnitt und in London verklebte. Der Grund dafür war seine Klaustrophobie. Er selber lebt in einem kleinen Zimmer, die kleinen Türen sind eine gute Möglichkeit hinauszutreten, in eine andere Welt.
"…these little doors give you more space for your imagination, the chance to wonder what's behind them." (gurdian.co.uk)
Einige Werke Pablo Delgados findet Ihr mit etwas Glück noch bei der Street Art Tour durch London Shoreditch.
The following two tabs change content below.
Street Art fanatic aus Hamburg. Nach kurzem Intermezzo mit London jetzt wohnhaft in Luzern. Hat im Internationalen Studiengang Angewandte Freizeitwissenschaft an der Hochschule Bremen studiert und seine Abschlussarbeit über das Thema "Reclaim the Streets" - Street Art und das Potential für den Städtetourismus in Hamburg geschrieben.